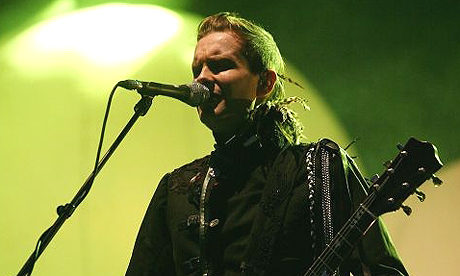 This is a late review for
Jonsi's
"Live at the
Wiltern
" which came out earlier this year.
Last year, Amber and I had the pleasure to see
Jonsi
perform in Tempe, AZ. When we heard
Jonsi
was going to release a live album, we were eager for it's release. Listening to
Jonsi
has helped me through some crazy frustrating times while living in AZ. His music captures and delivers you deep into Iceland with beautiful imagery and stunning
soundscapes
.
Recording a live album is always a bit tricky. The sound engineers have to get everything just right in order for the live concert sound quality to be good enough for commercial production. Even with the brilliant people running the board for
Jonsi
, some of the songs can be a bit jarring. Especially when
Jonsi
uses his vocal special effects for the songs "Around Us", "Sticks and Stones", and "Grow Till Tall". That fact is totally forgiven and forgotten with the sonically perfect progression of the songs "Icicle Sleeves" to "
Kolnidur
" to "Tornado". Amber and I love the lone bass drum sequence that leads into "
Kolnidur
". The song "Tornado" itself is worth buying the album alone.
Rumor has it that
Jonsi
is back working together with the rest of
Sigur
Ros. It'll be interesting to see which direction the band takes after
Jonsi's
solo project. Although,
Sigur
Ros has produced some brilliant songs, I have kinda enjoyed
Jonsi's
solo stuff more. I hope to see him do this again one day.